Prom Hairstyles Gallery
Finding your prom hair style just got ten times easier with our expanded hairstyles gallery. We have all the latest updos, partial updos and even straight hair styles.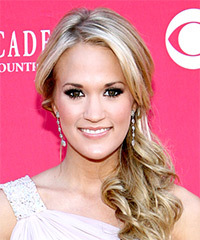 See this amazing look with a side swept ponytailses styled out in loose waves. Her luscious length flowed down to mid-back with little layering through the edges for a soft finish. Her front layers sat perfectly to contour her neckline. This style is best suited for those with round faces as it gives the illusion of a longer face.
If you want a fancy prom hair style you might want to consider scheduling an appointment with your hair stylist several weeks if not months in advance. Some busy stylists even book years in advance!
inding the right prom hair style is probably the second most important decision you will make, other than who you will go with and what dress you will wear. It is up for debate if your dress or your hair is more important.
We are going with the prom dress and prom hair style are equally important and in the end one can greatly affect the look of the other.
Get Started Now -