Long Hair Styles Gallery
It seems that long hair is always in style. If one had to summarize the amount of long hair styles that appear across all media channels, it is without a doubt the most prevalent length of hair style.
Long hairstyles include long layers, lots of face-framing layers, some curly styles are getting great press coverage also. This suggests that perhaps perms are returning strong and hard.
As with all perms and color treatments, hair care becomes a great concern as chemically treated hair can turn into damaged hair quickly. Always consult a hair stylist before embarking on any chemical process for you hair
Check out the different long hair looks below. They include layered cuts with either a straight or curly variations; the straight sleek look is still right in style this season, with a few variations added. Smooth angles around the face seem to be the trend also, with the addition in some cases of some very long trendy bangs. The texture of your hair plays a very important role in the type of long hair style you choose.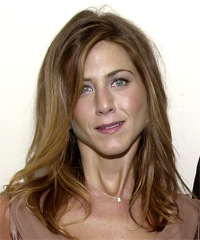 Jen's hair is always a focal point of any red carpet event and this style is no exception. The hair has been styled into a lovely long hairdo which is full of body. Shaped layers have been cut throughout the mid-lengths and ends. If you have a larger forehead, ask your stylist to cut some wispy bangs.
Tips for the Best Blow Out Hairstyle
First tip is to schedule an appointment with your hair stylist LOL!! But let's assume for the moment that you don't have the time or money to be going to the salon every time you want a blow out. Here are some blow out tips that might help you.
Condition your hair before you shampoo. Shampooing your hair last will help the hair to be more bouncy and full.

Use a volumizer hair product. Apply the product to damp hair concentrating on the root area. If you can find a product that is both a volumizer and conditioner in one, that would be even better.

Blow dry the hair without the nozzle, set on high. When hair is 95% dry, wrap small sections of hair around a large round brush and blast it with the hair dryer for a few seconds.

Flip your hair back and forth and tossle with your fingers to create volume. A well-known technique is to flip your head over and brush out the waves for a more tousled look.

Apply a strong hold hair spray throughout the hair, lifting layers and blasting hair underneath to keep the volume all day long.